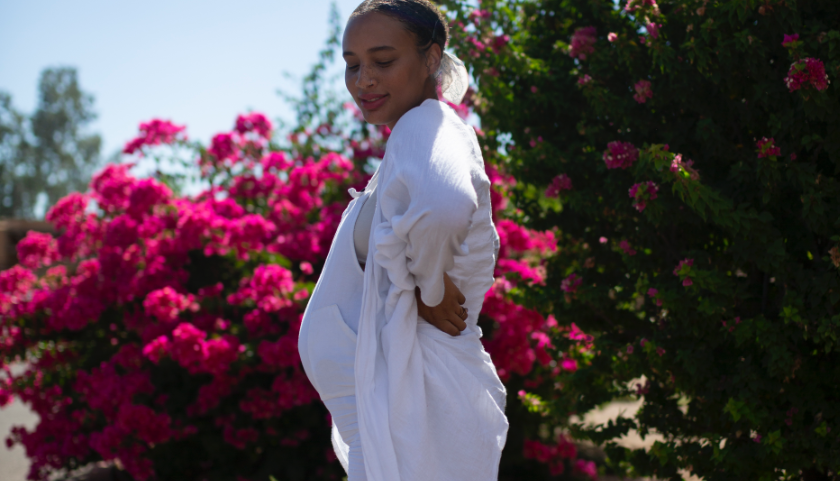 This year, we re-launched our popular Hello Sunshine SPF as the new British Summer Time Sensitive Sunscreen. We often get asked a lot of questions around using an SPF as part of your skincare routine. It's often a concern of those who have sensitive skin – from acne through to eczema – as SPFs can be quite thick formulas. But wearing an SPF is so incredibly important to the overall health of our skin. That's why we have worked hard to develop a formula that is suitable for all sensitive skin types.
In this post, we answer all of your frequently asked questions around SPF. From the suitability of SPF for different skin types, whether that's acne-prone skin or dry skin, to whether SPF is safe for pregnancy.
Should SPF be used alongside a moisturiser or day cream?
Although our British Summer Time sunscreen does have hydrating properties, an SPF won't be enough to hydrate the skin alone. Therefore, we recommend applying a moisturiser underneath. Wait for your moisturiser to be fully absorbed and then add your SPF on top.
Is SPF suitable for acne prone skin?
Whether SPF is good for acne-prone skin is a common concern. This is because SPFs are notoriously thick products in order to protect your skin from UV rays. Luckily, our SPF is suitable for all skin types, making it a good choice for acne-prone skin.
Nevertheless, even if you don't wear makeup, it's important to double cleanse each evening to make sure that you completely remove your SPF. This will help prevent any blemishes or congestion occurring.
Do I need to reapply my face SPF throughout the day?
We understand that once your makeup is on and you're off to go about your day, you don't want to be reapplying your SPF. That's why our sunscreen is intended to be worn all day underneath makeup. There should be no need to reapply your SPF unless you spend a prolonged period of time outside with direct exposure to the sun.
Can SPF be used during pregnancy?
In terms of using our SPF during pregnancy, it's totally up to you and how comfortable you are with essential oils. But to be on the safe side, we recommend using from the second trimester onwards. We do have a number of pregnancy safe skincare products, which can be used from day one of your pregnancy.
Is SPF suitable for eczema?
We use non-irritating ingredients in our SPF. Plus, we patch test on sensitive and eczema-prone skin, so you know you're in safe hands.
Is the SPF gluten-free?
Yes! It is gluten-free, but there are some derivatives of wheat. The gluten proteins themselves do not trickle down the process into the product though.
Is SPF suitable for dry skin?
Our SPF has been formulated with all skin types in mind, even dry and dehydrated skin. So although our sunscreen contains zinc, we also use Jojoba Oil. This has good affinity with the skin and helps it to stay hydrated in the sun.
Can the packaging be recycled?
Yes! The tube itself is made from sugar cane sourced polyethylene, so can be recycled. The cap is polypropylene and is recyclable (you might need to check with your local recycling first). Both need to be washed out and recycled separately.
If you're concerned about your intake it may be worth consulting a naturopath.